Our industrial machinery systems are able to connect to all sorts of production facilities.
Our conveyance systems achieve minimization of production losses. With our know-how, which we have accumulated for about a half century and with our latest computerized control technology, we facilitate no-man operation at any production sites and minimize production losses. We propose efficient industrial machinery and conveyance systems with full of ideas that unify to information and production facilities. Since they are custom-made, they correspond to your demands and special needs. Please leave everything to us. We provide comprehensive services from planning, designing, producing, installing, adjusting, to follow-up services.
Our Comprehensive Systems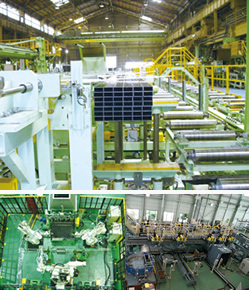 We conduct the development and manufacturing of the comprehensive system of industrial machinery. Our specialties include automating physical distribution centers, establishing, reconstructing and making one more great large plant, and not to mention, energy saving. We produce production environments that are unified with all kind of information, products, and facilities.
Our Conveyers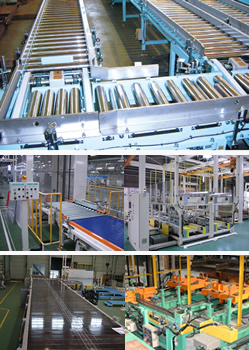 Conveyance systems are essential to any production lines. Our versatile conveyer plays a important role inside your factory as it makes many conveyance methods possible according to the purpose of your production sites. We develop and manufacture each conveyer very carefully since it maximizes your production efficiency at your production sites no matter it is for carrying heavy items or light items.
Our Transfer and Reversing Machines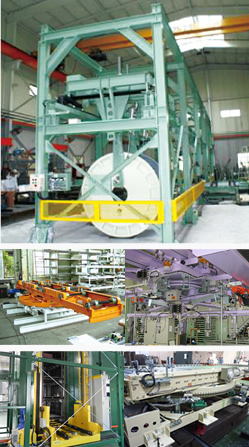 In accordance with the situations of production sites, we offer many kinds of transfer and reversing machines like stacker cranes that enable to carry any kinds of products with controls, and turntables that match with production line and carriers. We make seemingly impossible things possible with our unique idea of combining upstream equipments and downstream equipments.
Our Lifters and Traverser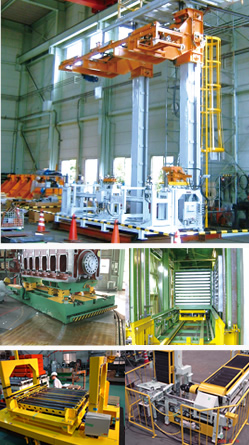 We develop and manufacture lifters with many functions such as drop lifters and lifters fork, and traverser that is good at vertical migration and parallel displacement of large-scale carriers. Our strength is the products' functionality and ensured safety. By using know-how that we gained from experiences, and lifter traverser which is transportable anywhere, we create rational and efficient industrial system.
Our Processors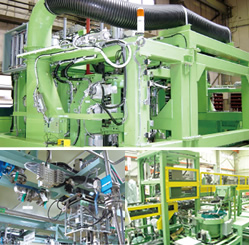 We design, develop, and manufacture many kind of processors and processing equipments that are demanded in our customers' production sites. We carefully create devices like drying apparatus, end surface work machines, cooling devises, processing equipments, and welding and aging equipments that enable users to process freely. Since all the processors are custom-made, it is possible to respond to our customers' demands and purposes in remodeling and expansions with a care. Thankfully, our customers trust us deeply for giving a few defect.
We are here to help you solve various problems at production sites.
Example 1. Required to have other production facilities for new products


Our proposal

Designing a new facility

Result

Installed a good production facility

Example 2. Low production capability


Our proposal

Renewing or remodeling a facility

Result

Improved production and processing capability

Example 3. Too much labor costs on conveyance


Our proposal

Installed an automated facility

Result

Reduced labor costs

Example 4. Production losses and bad yields


Our proposal

Installing an automated facility

Result

Obtained a stable production quality and better yields

Example 5. Limited space for facility


Our proposal

Having a compact and steric facility

Result

Limited spaces are efficiently used

Example 6. Facilities are getting decayed


Our proposal

Renewing facilities to enhance productivity

Result

Improved productivity by preventing breakdowns

Example 7. 3D (dirty, dangerous, and demanding) work environment keeps labors away


Our proposal

Installing automatic mechanization system to work environment

Result

Improved work environment

Example 8. Not enough labors for maintenance


Our proposal

Made a facility maintenance-free

Result

Reduced labor costs and stop time of lines

Example 9. Poor utility efficiency


Our proposal

Installing an energy-saving facility

Result

Saved utility