We help our customers to achieve high productivity, using our comprehensive system of production and distribution centers.
— We make our customers' works highly efficient and help them to save energies by establishing, reconstructing or making more of great large plants. —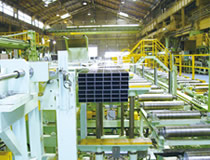 Our specialty includes establishing, reconstructing and making more of one large plant, automating production and distribution centers and saving power. Our main objective is to create innovations to enhance our customers' competitive strengths by foreseeing their future markets. We achieve this objective by offering our comprehensive systems which do an excellent job in creating high efficiency, creativity and innovativeness.